AUS 3 is an automatic wall shower with thermostatic valve. Water is drained after the sensor is obscured / shaded – the water supply is controlled by a solenoid valve. Repeated shading of the sensor stops the water. If the sensor is not shaded, the water stops automatically after the set time (opening time). The water temperature is set using a thermostatic valve. The shower is equipped with a shelf for storing soap.
The AUS 3P shower is identical to the AUS 3 shower, except that it is operated with a permanent piezo button. After a certain time, the auto stop function is retained.
AUS 3 and AUS 3P automatic shower faucets can be used instead of standard shower faucets with a spacing of 100 and 150 mm without any design modifications.
The AUS 3 automatic shower is especially suitable for showers in companies, swimming pools, sports facilities, etc.
Both versions of this shower can also be supplied without a 12 V single water supply thermostat (AUS 3.1 or AUS 3.1P) or 6 V (AUS 3.1B or AUS 3.1PB)
The showers are made of stainless steel AISI 304. Other custom materials – eg AISI 316.
VERSIONS:
| | |
| --- | --- |
| AUS 3 | Sensor shower with thermostat valve SP2 – 12V, 50Hz |
| AUS 3.B | Sensor shower with thermostat valve SP2 – 6V (4×1,5) |
| AUS 3.1B | Sensor shower, one water supply – 6 V |
| AUS 3.1 | Sensor shower, one water supply – 12 V |
| AUS 3.1P | Sensor shower, one water supply and piezo button – 12 V |
| AUS 3.1PB | Sensor shower, one water supply and piezo button – 6 V |
| AUS 3.P | Piezo controlled shower with thermostat valve SP2 – 12V, 50Hz |
SCHEME: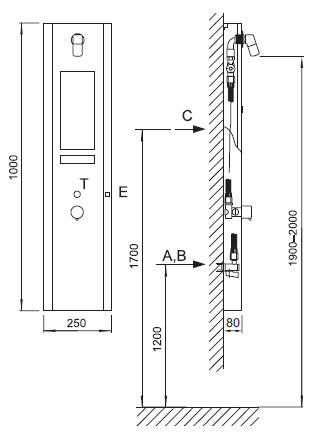 A – cold water
B- warm water
C – el. voltage
E – scanning zone