AFO 01.SCL is a stainless steel drinking fountain with cooling and a bottle filling opening, designed for standing or wall mounting. The user can choose between uncooled water and water that passes through instantaneous cooling. Uncooled water is supplied to the bottle as standard – it can be changed. Control is START / STOP using piezo buttons – a permanent solution. At the same time, the operator can set the time after which the water flow is automatically switched off.
The drinking fountain is produced as standard with a filling opening of 0.7 l bottles.
The product contains a flow cooler.
The water supply is done with a flexible hose, the siphon is also flexible. The flexible design of the water supply and siphon enables variable and uninterrupted connection of the drinking fountain and its easy disassembly.
The drinking fountain is also produced in other variants:
AFO 01 – hanging drinking fountain
AFO 01.S – Freestanding drinking fountain
AFO 01.SL – drinking fountain with water filling opening
AFO 01.SC – drinking fountain with cooling
On request, it is possible to be equipped with a fountain that starts automatically (with sensor).
SHEMA: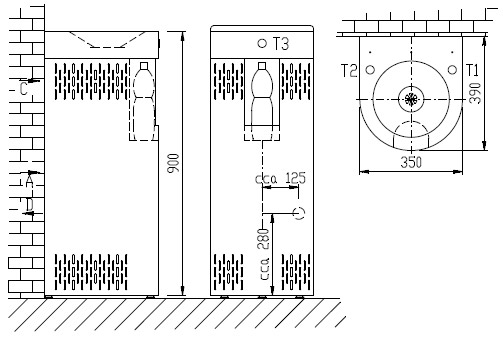 A – supply
C – el. voltage
D – drainage