Antivandal sanitary program
Antivandal sanitary facilities made of stainless steel, usually with automatic control. Due to their design, they are intended for installation in the walls of penitentiaries, prisons, etc., ie wherever high safety standards and hygiene are required.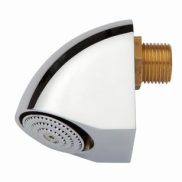 Anti-vandal shower head with a flow of 12 liters per minute. It has a tilt outlet and limescale aerator. The shower head is protected from theft by an imbus Allen screw; therefore it cannot be dismantled without tools.