AUM 015 is an AISI 304 stainless steel washbasin, automatically controlled by a sensor, suitable for wall mounting.
This sink is not equipped with a classic sensor faucet (tap), but is equipped with a resistant stainless steel spout with sensor contactless control. The sensor photocell responds when the hands are placed under the spout – water automatically begins to flow by opening the solenoid valve after the hands are placed in the scanning zone. The sink is equipped with a mechanism against overpressure. An integral part of the sink is a stainless steel mesh, which prevents various objects from falling into the siphon. A 6/4 "nipple is welded to it to connect the siphon or directly to the sewer.
The sink does not have a welded spout, but it is completely welded from 1.5 mm thick stainless steel, which makes it very resistant to damage. The inner edges are welded at 90˚. The sink can also be delivered without a tap. When ordering, it is important to specify whether the customer wants a wall-mounted faucet (without a hole in the sink) or a standing one (position of the hole in the sink for the faucet left or right).
Execution:
AUM 015 – washbasin with drain, without faucet
AUM 015.E – washbasin with instantaneous electric heater (230 V)
Version with 12 V, 50 Hz power supply (with safety supply transformer ZAC)
AUM 015.1 – with 1 water supply
AUM 015.2 – hot and cold water connection
AUM 015.TV – with thermostatic valve
Version with 6V power supply (4xAA battery):
AUM 015.1B – with 1 water supply
AUM 015.2B – hot and cold water connection
AUM 015.TVB – with thermostatic valve
Basic technical data:

sensor diameter: automatic
water supply: 1/2″
drainage: d=40 mm
un. dim. sink: 370×120 mm
adjustable time of passage: 0-4 sec. (factory setting is 1 sec.)

AUM 015.1, .2, .TV (+ battery voltage version)

water pressure:
0,1-1,0 MPa (version 12 V)
0,2-0,8 MPa (version 6 V)
voltage:
12 V,50 Hz
6V DC (4 x AA battery)
needed power: 6 VA
voltage source:
ZAC 1/20(max. 3 x 1 AUM 015.1, .015.TV, .015.2)
ZAC 1/50 (max. 8 x 1 AUM 015.1, .015.TV, .015.2)
El. protection: IP 55
weight: 14 kg

AUM 015.E

water pressure: 0,2-0,6 MPa
recommended pressure: 0,3 MPa (without ripples of water)
el. voltage: 230 V, 50 Hz
power: 3500 W
el. protection: IP 54
weight: 15,5 kg

Delivery includes:

Sink housing
Sensor battery with desired power supply and water regulation
Siphon
Connecting pipes (not in version without battery)
Small connecting equipment
Battery battery voltage version)
Flow electric heater (only AUM 015.E)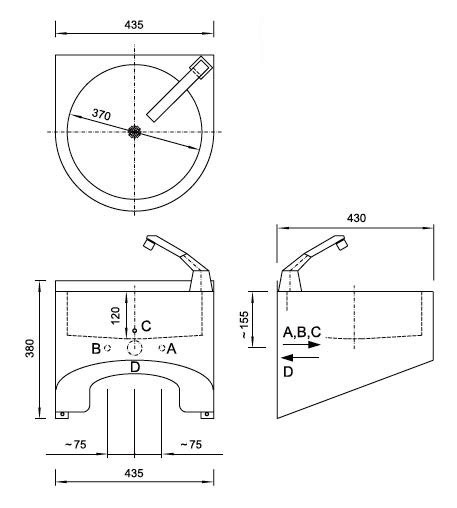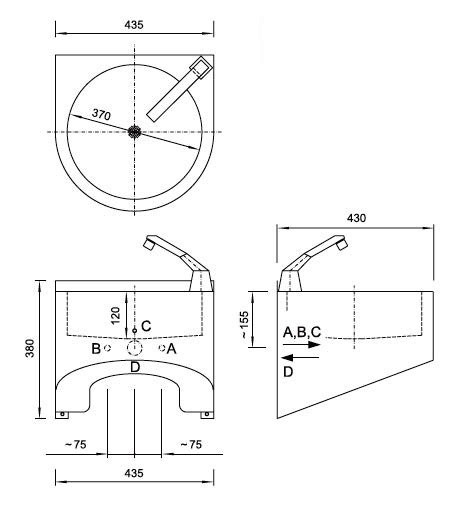 Installation conditions:
Set the water supply according to the picture
Install a 40 mm drain.
Set el. cable – 12 V, 50 Hz from ZAC transformer (CYKY 2Ax1,5) – for power supply version 12 V
For AUM 015.E, install the CYKY 3C 1.5-2.5 electric cable
A – cold water (AUM 015.2, .TV, .E), mixed water (AUM 015.1), internal pipe G 1/2″
B – warm water (AUM 015.2, .TV), internal pipe G 1/2″
C – el. connection
D – drainage