ZP 01 are stainless steel urinals of various widths designed for toilets with a high degree of risk of damage. ZP 01 is a hanging model of the urinary tract. The standard model includes water supply pipes and resistant anti-vandal stainless nozzles. COS, a flush time control device, is recommended for the urinal. Other types of rinses can be delivered on request – eg sensor.
ZP 01 troughs are produced in 4 standard widths. Other widths can be supplied on request as required. The design of the trough differs in relation to the exit position on the right or left side (front). When ordering, specify the required design. The ZP 01 tray does not have a lid in the standard version – it can be delivered with a lid on request. A stainless or plastic trap with a stainless shell can be installed on the urinal.
The urinal is made of AISI 304 sheet metal 1.5 mm thick. We offer a 2 mm sheet metal model – BSZP 01 for increased resistance to vandalism. Other materials (eg AISI 316) are available on request.
Delivery includes:
– stainless steel trough with inlets and nozzles for rinsing, fitting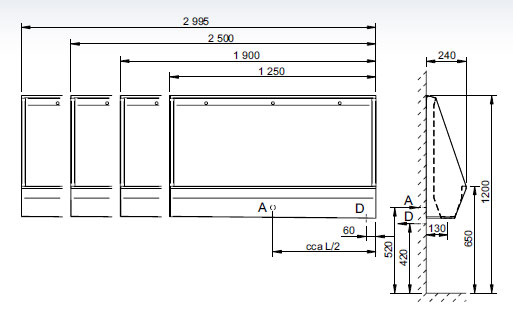 A -supply
D -drainage