BSPZ 02 is a wall-mounted stainless steel trough intended for sanitary facilities with a high risk of intentional damage. They are suitable, for example, for social institutions in prisons, diagnostic institutions for troubled youth, etc.
The trough is made of 2 mm stainless steel as standard. At the customer's request, the thickness of the material can be increased up to 3 mm. A matte finish is achieved by sandblasting. A surface treated in this way is more suitable for maintaining cleanliness.
Time-controlled rinsing via the COS 2 device is recommended for rinsing the trough.
The design of the trough is of this type, with a drain on the right side (seen from the front). It is also possible to order on the left (must be specified when ordering).
Delivery includes:
– stainless steel sink with siphon fi 50, fitting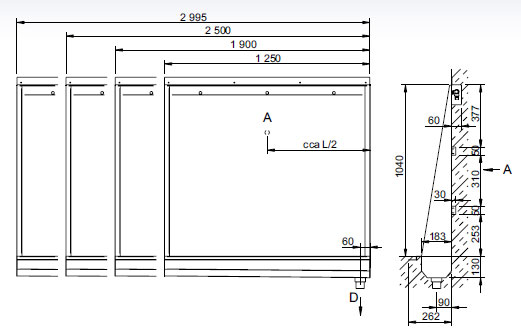 A – supply
D- drainage