AUM 03 is an automatic stainless steel washbasin for wall mounting. The sink is not equipped with the usual sensor faucet, but it is welded to a stainless steel opening with contactless control. This makes the sink very resistant to damage. The optoelectronic sensor responds to the hands under the tap – when the hands are placed in the sensor zone, the water is automatically released by opening the solenoid valve, which remains on for a certain time after removal (deceleration time). The sink is equipped to prevent excessive hot water pressure.
When ordering, it is necessary to determine whether to use a wall faucet (without a hole for the sink) or a stand (diameter of the sink). Delivery includes siphon and small mounting material.
The AUM 03 stainless steel washbasin meets the requirements of EU standards. It is intended for the food industry, and also in places where it is necessary to increase the level of hygiene with maximum water savings.
Washbasins are made of stainless steel AISI 304.
VERSIONS:
| | |
| --- | --- |
| AUM 03 | wall sink without faucet |
| AUM 03.1 | wall sink , one water supply – 12V, 50Hz |
| AUM 03.1B | wall sink , one water supply – 6V (4×1,5) |
| AUM 03.2 | wall sink , warm and cold water – 12V, 50Hz |
| AUM 03.2B | wall sink , warm and cold water – 6V (4×1,,5) |
| AUM 03.TV | wall sink , thermostat valve – 12V, 50Hz |
| AUM 03.TVB | wall sink , thermostat valve – 6V (4×1,5) |
SHEMA: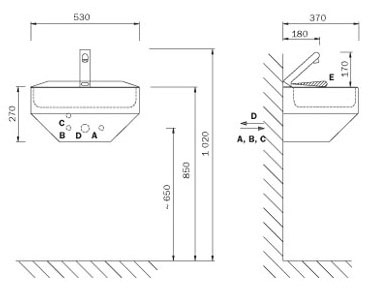 A- warm water
B- cold water
C – el. voltage
D – drainage