AUB 01 is a matt stainless steel wall bidet. The connection dimensions are the same as for ceramic bidets. It can be mounted on any toilet mount bracket that has M12 screw dimensions.
The bidet is made of AISI 304 stainless steel (it can also be made of AISI 316 stainless steel on request). The faucet is not included in the delivery!
AUB 01 cannot be used in chemically aggressive environments and chlorine-containing detergents cannot be used to clean it. For cleaning, we recommend WÜRTH detergents for protection (No. 0893 121 K) and cleaning materials (No. 893 121 1).
DELIVERY INCLUDES:
– stainless steel bidet, nut M12 (2 pcs)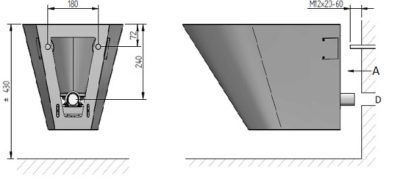 A – water supply 1/2″ internal thread
D – drainage fi 40mm