AUL 04 is a stainless steel trough designed for hanging on the wall. The design allows the installation of mixers or contactless taps. The basic version of the sink is without holes for the faucet, the holes can be made to order.
The design of the trough is of this type, with a siphon on the right (when the trough is viewed from the front). The side of the siphon can be specified on the order (must be specified in the order).
The troughs are made of stainless steel class ČSN 17240 (AISI 304). Made of other materials to order (eg AISI 316).
The AUL 04 trough is designed for installation in bathrooms and locker rooms, food processing plants. Depending on the needs of the work and the spatial layout, it is possible to make a trough in other lengths on request. When ordering, it is necessary to specify the required design.
VERSIONS:
| | |
| --- | --- |
| AUL 04.1 | trough with medical tap – 1250 mm |
| AUL 04.2 | trough with 2 medical tap – 1900 mm |
| AUL 04.3 | trough with 3 medical tap – 2500 mm |
| AUL 04.4 | trough with 4 medical tap – 2995 mm |
SHEMA: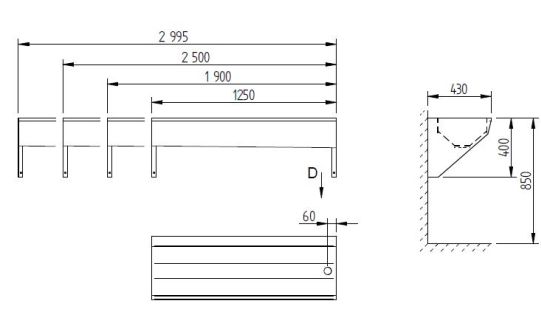 D – drainage