AUZ 3 INV is a pressure flushing system, designed for people with disabilities. According to the special requirements for these rooms, the flushing system can operate from two places independently. The surface part of the control consists of robust stainless steel lids with durable piezo buttons. They control the electronics, which at the touch of a button flush the toilet through a solenoid valve – and flushing takes place. Water flows for a certain time by the operator.
The electronics can also be set to a forced break after two rinses, avoiding intentional rinsing several times in a row – intentional water consumption. The length of the forced pause can be adjusted by the administrator. It can also be zero – there is no forced pause.
The AUZ 3 INV automatic toilet flushing system is also designed for sanitary facilities where the possibility of destroying equipment increases.
SHEMA: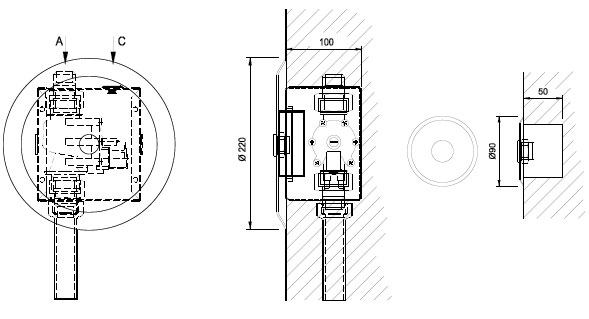 A – water supply
C – el. voltage