AUL 03Z.LK is a stainless steel trough intended for the medical environment. The trays are deeper and larger than conventional washbasins to give the user more space. The troughs have internal round corners for easy maintenance and greater hygiene. At the same time, the troughs are equipped with medical lever taps. Number of taps 1 to 4 by type.
The troughs are made of stainless steel with increased resistance to chlorine – AISI 316L (unlike standard stainless steel AISI 304 food for conventional troughs).
The troughs are sandblasted – a fine matte finish. The siphon comes from the right side (front trough). Available version on the left – must be specified when ordering.
The troughs are available in 4 lengths of 1250, 1900, 2500 and 2995 mm. If desired, we make troughs made in other sizes – contact us with your requirements.
VERSIONS:
| | |
| --- | --- |
| AUL 03Z.1LK | trough with amedical tap – 1250 mm |
| AUL 03Z.2LK | trough with 2 medical taps – 1900 mm |
| AUL 03Z.3LK | trough with 3 medical taps – 2500 mm |
| AUL 03Z.4LK | trough with 4 medical taps – 2995 mm |
SCHEME: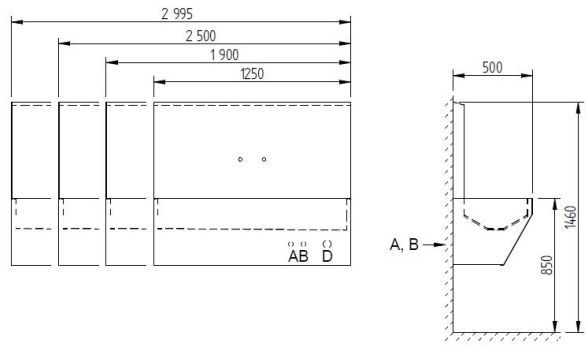 A – cold water
B- warm water
D- drainage