AUM 022 is a smaller stainless steel wall-mounted sink. Due to its size, it is especially suitable for places where there is not much space, and at the same time it is necessary to maintain hygiene requirements.
The housing is produced in two types: uncoated washbasin with brackets (AUM 022N) and coated fixed edition (AUM 022Z). The base is matt – sandblasted.
The washbasin is supplied individually with a 33 mm hole for the mixer or as a set equipped with the popular AUM 3 automatic sensor tap in all versions – for one pre-mixed water, two taps or with a thermostatic valve. All versions are available in 12 V, 50 Hz (from ZAC) and 6 V batteries (from 4 AA batteries).
Washbasins are made of stainless steel AISI 304.
VERSIONS:
| | |
| --- | --- |
| AUM 022N | uncoated sink with siphon , without tap |
| AUM 022N.1 | automatic uncoated, one water supply – 12V, 50 Hz |
| AUM 022N.1B | automatic uncoated, one water supply – 6V (4x 1,5) |
| AUM 022N.2 | automatic uncoated, for warm and cold water – 12V, 50 Hz |
| AUM 022N.2B | automatic uncoated, for warm and cold water – 6V (4x 1,5) |
| AUM 022N.TV | automatic uncoated with thermostat valve – 12V, 50 Hz |
| AUM 022N.TVB | automatic uncoated with thermostat valve  – 6V (4x 1,5) |
| AUM 022Z | coated sink with siphon , without tap |
| AUM 022Z.1 | automatic coated, one water supply – 12V, 50 Hz |
| AUM 022Z.1B | automatic coated, one water supply – 6V (4x 1,5) |
| AUM 022Z.2 | automatic coated, for warm and cold water – 12V, 50 Hz |
| AUM 022Z.2B | automatic coated, for warm and cold water – 6V (4x 1,5) |
| AUM 022Z.TV | automatic coated with thermostat valve – 12V, 50 Hz |
| AUM 022Z.TVB | automatic coated with thermostat valve – 6V (4x 1,5) |
SCHEME:
AUM 022N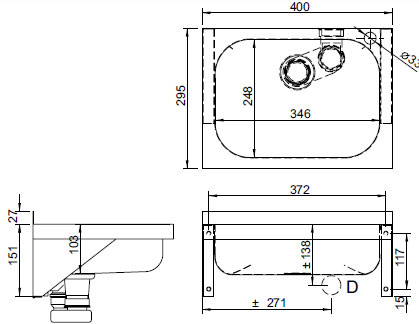 AUM 022 Z