The BSAU 02 safety washbasin is specially designed for areas where there is a high risk of damage to sanitary equipment. Examples of such operations include cells in prisons, psychiatric facilities, prison centers for addicts, and highway resorts.
The design of this washbasin is partly based on the concept of the BSK 01 washbasin.
The main advantages of this anti-vandal washbasin:
– all parts of the washbasin are covered, including the siphon and the water supply
– the water supply consists only of a thick stainless steel handle which cannot be bent or broken in the usual way
– water dosing is controlled by electronics so that by pressing the anti vandal button the electronics release only a predetermined amount of water
– the anti-vandal button is only an impulse identifier, so it is guaranteed here that the device cannot be blocked and thus release water for a long time
– the upper part of the siphon in the washbasin is made of perforated stainless steel sheet, so access to the top of the siphon is absolutely impossible
– the washbasin is designed to prevent self-injury (no sharp edges – it eliminates the risk of cuts, the spout is very short and directed so that it cannot be hung)
The washbasin is usually made of stainless steel sheet 2 mm thick – it can withstand very large loads. A ZAC power supply must be used to power the electronics of this washbasin.
SHEMA: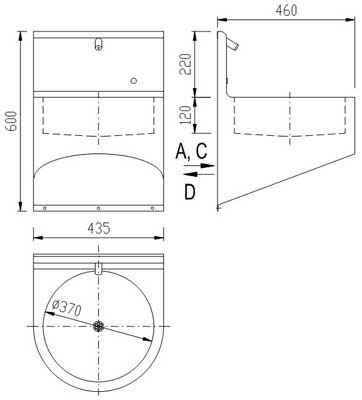 A – supply
C- el. voltage
D- drainage