AUM 026 is a built-in stainless steel wall-mounted washbasin. Includes liquid soap dispenser, faucet and hand dryer. Control is performed using durable piezo buttons, closing is controlled by electronics and takes place automatically (the length of the opening is determined by the operator). The sink is designed for built-in installation, all parts of the technology are behind the wall, so it is not possible to destroy the user – anti-vandal variant.
On request, it is possible to supply a wall design, or a design without some functions (eg only water, soap or water, dryer).
This washbasin is also available in a version for people with disabilities under the code AUM 026 INV.
The washbasin is made of AISI 304 stainless steel.
VERSIONS:
| | |
| --- | --- |
| AUM 026.1 | for the wall, one premixed water supply, tap, soap tank , hand dryer – 230 V, 50 Hz |
| AUM 026.2 | for the wall, warm and cold water, tap, soap tank , hand dryer – 230 V, 50 Hz |
| AUM 026.TV | for the wall, thermostat valve, tap, soap tank , hand dryer – 230 V, 50 Hz |
SCHEME: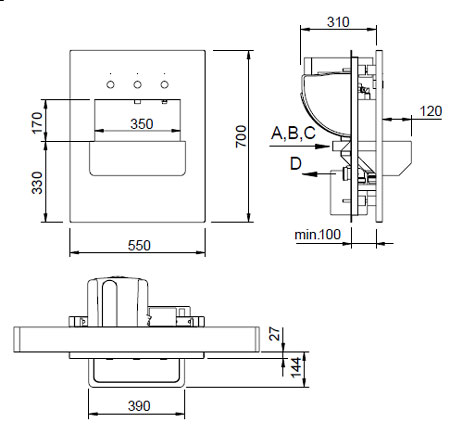 A – warm water
B – cold water
C- el. voltage
D- drainage