AUM 033 is a stainless steel wall-mounted washbasin, conical in shape, designed to be a more durable and hygienic replacement for ceramic washbasins. The AUM 033 washbasin forms one design unit together with the AUZ 01 conical toilet, the AUZ 01 INV conical toilet, the AUB 01 bidet and the AUP 03 urinals.
In the basic version, the sink has a tap opening d = 33 mm. A sink without holes is also available – it must be specified in the order.
The washbasin can be supplemented with an AUM 3 automatic washbasin tap with 12 V supply from ZAC or 6 V from AA batteries. The automatic tap can be designed for single, mixed water, hot and cold water or with a thermostatic valve. After consultation, the sink can be supplemented with other automatic taps from the AZP range.
Washbasins are made of stainless steel AISI 304.
VERSIONS:
| | |
| --- | --- |
| M 033 BO | stainless steel sink without flange, without tap, without opening |
| AUM 033 SO | stainless steel sink without flange, without tap, without opening |
| AUM 033.1 | aut. stainless steel sink without flange, for one water supply – 12V, 50 Hz |
| AUM 033.1B | aut. stainless steel sink without flange, for one water supply – 6V (4x 1,5) |
| AUM 033.2 | aut. stainless steel sink without flange, for warm and cold water – 12V, 50 Hz |
| AUM 033.2B | aut. stainless steel sink without flange, for warm and cold water – 6V (4x 1,5) |
| AUM 033.TV | aut. stainless steel sink without flange, with thermostat. valve – 12V, 50 Hz |
| AUM 033.TVB | aut. stainless steel sink without flange, with thermostat. valve – 6V (4x 1,5) |
SCHEME: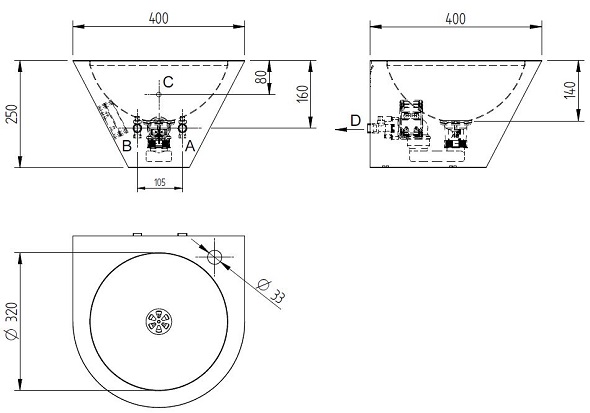 A – warm water
B – cold water
C- el. voltage
D- drainage