The AUM 012S is a sensor-controlled stainless steel sink with a sanitary knife tank for slaughterhouses or wall mounting with limited space. The sink and sanitary tank integrate a waterproof unit (electrical protection IP 55) that can be cleaned using water jets. The sink is equipped with a sensor, which is automatically activated when placing the hands in its range and turns off when the hands are removed from the range of the sensor. Part of the sink is a sanitary tank with electric heating for 4 knives. The water temperature inside the tank is 83 ° C maintained by an electronic thermostat with digital display. The sanitary tank is equipped with an inlet and outlet valve and an overflow to ensure the maximum height of water inside the tank. The siphon is available without the need to remove the bottom of the housing. The sink can also function without a siphon – if it is connected to HT d = 40 instead. The upper plastic cover with a knife grid is placed on the sink to ensure easy maintenance.
The AUM 012S stainless steel washbasin meets EU standards in terms of its construction and finishing and is mainly intended for the food industry. It can be used in any other procedures, where increased hygiene standards and maximum water savings are required.
AUM 012.S is made of stainless steel AISI 304. Other materials (eg AISI 316) are available on request.
Delivery includes:
– sink with sanitary tank and formwork, plastic top cover with knife grille, connection hoses and angle valves, fitting
Performances:
AUM 012S.1 – sink with sanitary tank, one water supply, 12 V, 50 Hz
AUM 012S.2 – sink with sanitary tank, cold and hot water supply, 12 V, 50 Hz
AUM 012S.E – sink with sanitary tank, with instantaneous water heater, 230 V, 50 Hz,
AUM 012S.TV – sink with sanitary tank, with thermostatic valve, 230 V, 50 Hz,
Sheme: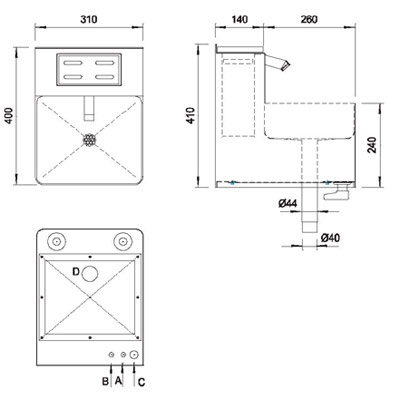 A – supply of cold and mixed water
B – supply of warm water
C – voltage input
D – drainage