AUM 031 stainless steel washbasin for wall mounting.
The washbasin is supplied either separately with a tap opening d = 33 mm or is equipped with an automatic AUM 3 tap in all variants – 12 V powered by ZAC or 6 V battery, single mixed water, hot and cold water or thermostatic valve.
Washbasins are made of stainless steel AISI 304.
VERSIONS:
| | |
| --- | --- |
| AUM 031 | sink , no tap, with opening for tap, AISI 304 |
| AUM 031.1 | automatic sink , one supply – 12V, 50 Hz, AISI 304 |
| AUM 031.1B | automatic sink , one supply – 6 V (4x 1,5), AISI 304 |
| AUM 031.2 | automatic sink , warm and cold water – 12V, 50 Hz, AISI 304 |
| AUM 031.2B | automatic sink , warm and cold water – 6 V (4x 1,5), AISI 304 |
| AUM 031.TV | automatic sink with thermostat valve – 12V, 50 Hz, AISI 304 |
| AUM 031.TVB | automatic sink with thermostat valve – 6 V (4x 1,5), AISI 304 |
SCHEME: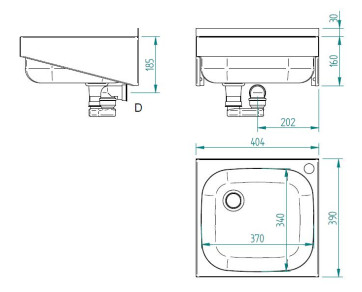 D – drainage