AUM 025 is a stainless steel wall-mounted washbasin, which due to its shape is designed as a more durable and hygienic replacement for ceramic washbasins.
The housing is produced in two types: a sink without a mantle with supports (AUM 025N) and a coated more durable version (AUM 025Z). The base is matt – sandblasted.
In the basic version, the sink has a tap opening d = 33 mm. A sink without holes is also available – it must be specified in the order.
The washbasin can be supplemented with an AUM 3 automatic washbasin tap with 12 V supply from ZAC or 6 V from AA batteries. The automatic washbasin can be for one pre-mixed water, hot and cold water or with a thermostatic valve. After consultation, the sink can be supplemented with other automatic taps from the AZP range.
Washbasins are made of stainless steel AISI 304.
VERSIONS:
| | |
| --- | --- |
| AUM 025N | uncoated sink, siphon, without tap |
| AUM 025N.1 | autom. uncoated sink , one water supply – 12 V, 50 Hz |
| AUM 025N.1B | autom. uncoated sink , one water supply – 6 V (4 x 1,5) |
| AUM 025N.2 | autom. uncoated sink , for warm and cold water – 12 V, 50 Hz |
| AUM 025N.2B | autom. uncoated sink , for warm and cold water – 6 V (4 x 1,5) |
| AUM 025N.TV | autom. uncoated sink , with thermostat valve – 12 V, 50 Hz |
| AUM 025N.TVB | autom. uncoated sink , with thermostat valve – 6 V (4 x 1,5) |
| AUM 025Z | coated sink, siphon, without tap |
| AUM 025Z.1 | autom.  coated sink , one water supply – 12 V, 50 Hz – 12 V, 50 Hz |
| AUM 025Z.1B | autom.  coated sink , one water supply – 12 V, 50 Hz – 6 V (4 x 1,5) |
| AUM 025Z.2 | autom.  coated sink , for warm and cold water – 12 V, 50 Hz |
| AUM 025Z.2B | autom.  coated sink , for warm and cold water – 6 V (4 x 1,5) |
| AUM 025Z.TV | autom.  coated sink , with thermostat valve – 12 V, 50 Hz |
| AUM 025Z.TVB | autom.  coated sink , with thermostat valve – 6 V (4 x 1,5) |
SCHEME:
AUM 025N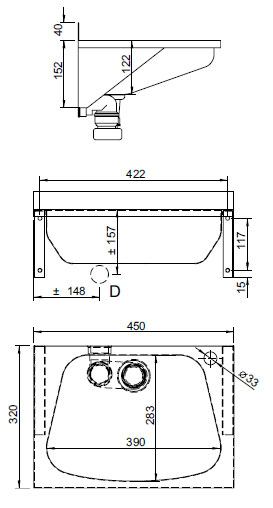 AUM 025Z