The wood boiler ATMOS Generator Dokogen is characterized by a special chamber lined on both sides with specially shaped ceramic parts, a primary air supply from the lower part and a ceramic nozzle, and in the lower chamber spherical ceramic parts. The rear flue is equipped with a tubular heat exchanger.
Gasification of wood (reverse combustion) with subsequent combustion of wood gas in the ceramic combustion chamber ensures optimal combustion of all flammable components. The air supply and combustion are controlled by an exhaust fan. This enables fast ignition and good combustion of the boiler immediately after ignition. The flame temperature is 1000 – 1250 ° C.
Inverse combustion (gasification) and a ceramic combustion chamber enable practically complete combustion with minimal harmful emissions. Boilers meet the restrictions of European regulations for environmentally friendly products and belong to the 5th class of boiler standards EN 303-5. They meet the most demanding requirements of the EU – ECODESIGN 2015/1189.
Advantages of pyrolysis boilers ATMOS
– Possibility of burning large pieces of wood
– Large firebox – long burning time
– Tubular heat exchanger
– High efficiency over 90% – primary and secondary air is preheated to a high temperature
– Ecological combustion – boiler class 5 – EN 303-5, ECODESIGN 2015/1189
– Exhaust fan – dust-free ash cleaning, smoke-free boiler room
– Cooling loop that protects against overheating – no danger of boiler damage
– The exhaust fan automatically shuts off when the fuel burns out – flue gas thermostat
– Easy ash removal – large space for ash (when in use, clean once a week)
– Small size and light weight
– High quality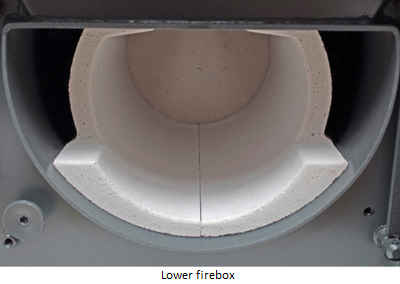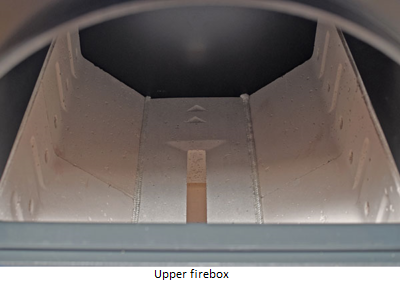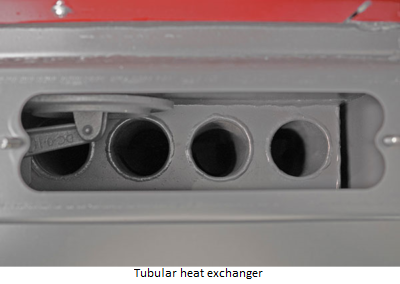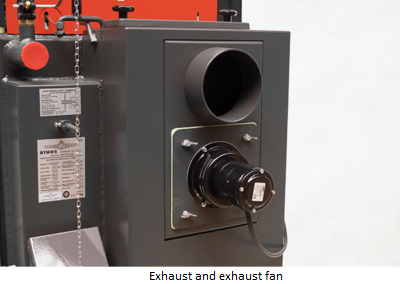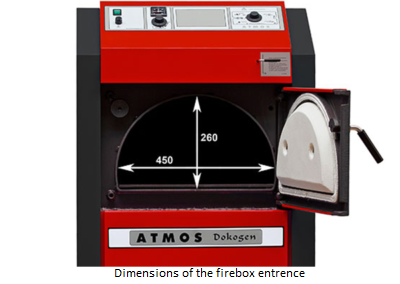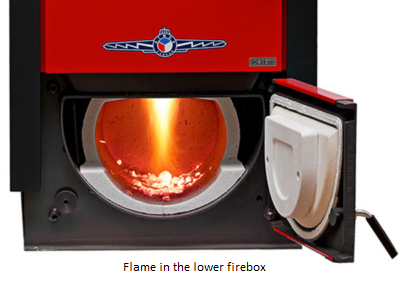 INSTALLATION
The wood boiler ATMOS must be installed via Laddomat 22 or a thermostatic valve (motor-operated three-way valve) in order to maintain the minimum return temperature at 65 ° C. The temperature of the water coming out of the boiler must be constantly maintained at 80-90 ° C. The default configuration of all boilers includes a cooling circuit to prevent the boiler from overheating.
We recommend the installation of a boiler with storage tanks.
DC XX GD MODELS ARE INTENDED ONLY FOR CONNECTION WITH ACCUMULATION TANKS WITH SUFFICIENT CAPACITY, AND THIS IS MIN. 55 LITERS PER 1 KW BOILER OUTPUT.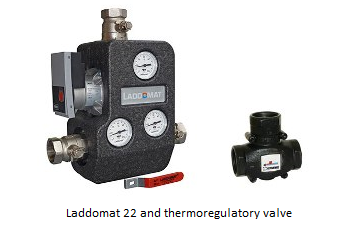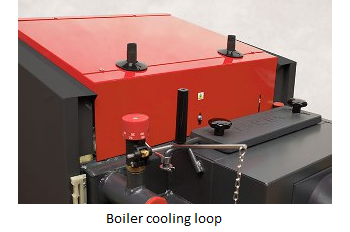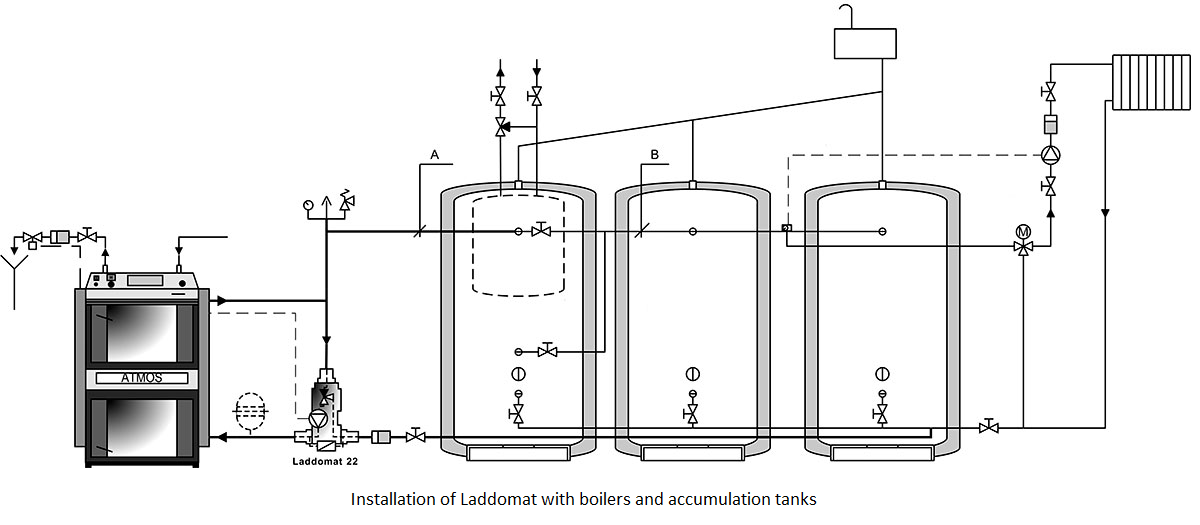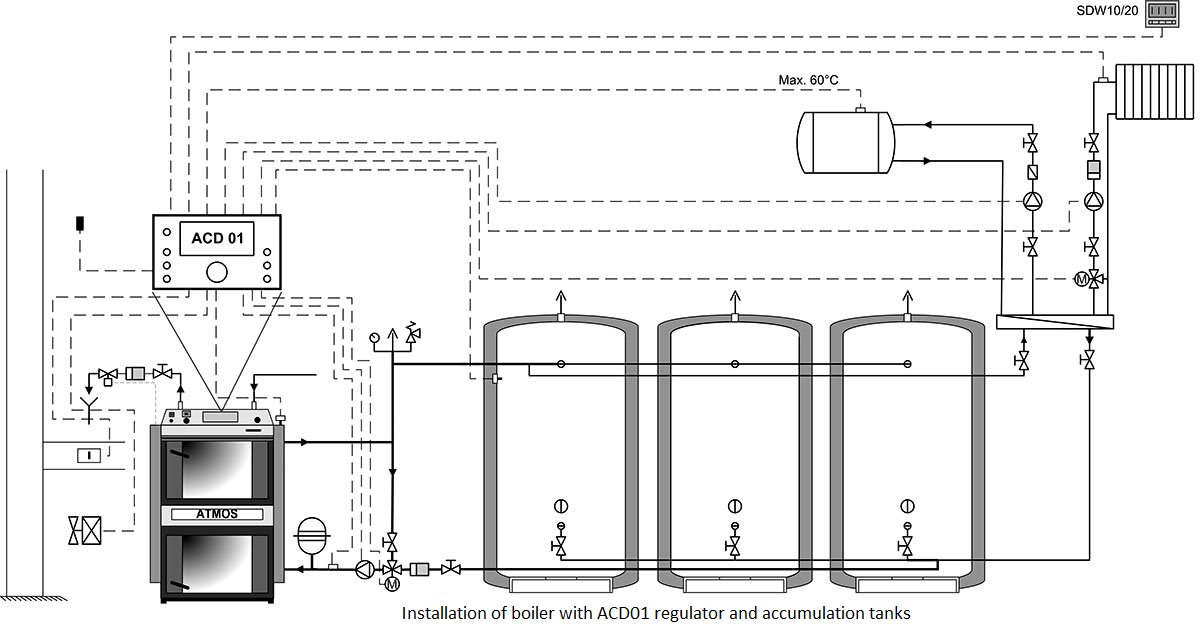 BOILER REGULATION
Electrically – mechanically – the boiler outlet is controlled by an air control damper with a draft regulator, type FR 124, which automatically opens or closes the safety valve in accordance with the set water outlet temperature (80 – 90 ° C). A lot of attention should be paid when installing the power regulator – it has another important function besides power regulation: it also protects the boiler from overheating. The thermostat located on the boiler plate regulates the exhaust fan according to the set temperature (80 – 85 ° C). The control thermostat should be set to a temperature 5 ° C lower than the vacuum pressure control thermostat FR 124.
The boilers are also equipped with an exhaust thermostat that serves to turn off the exhaust fan after burning wood.
The boiler works at a reduced efficiency even without a fan – the heating is not lost when the electricity goes out. With up to 70% of its rated power, the boiler can be used without a fan (for DCxxGD boilers we do not recommend operation when the exhaust fan is switched off).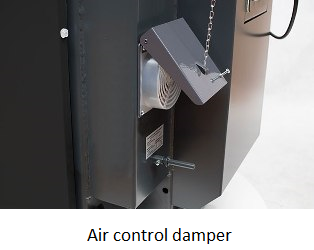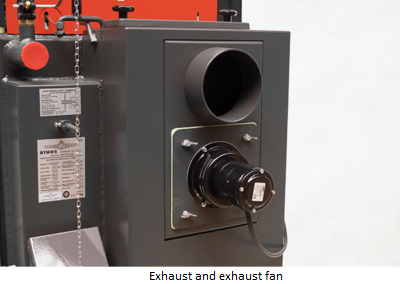 Each boiler can be equipped with "Equithermal" control ATMOS ACD 01 to control the heating system, which controls the outdoor temperature, room temperature and time. With this control you can control the boiler with a fan and many other features.

TECHNICAL INFORMATION: