AUZ 5-II is a built-in automatic toilet flushing system with a chrome cover. The system is designed for a wall-mounted toilet with 135 mm inlets and outlets and an anchor bolt spacing of 180 or 230 mm.
After leaving the toilet bowl, the optoelectronic switch reacts and activates the flushing system. Manual rinsing is also possible. After 24 hours of rest, the toilet is flushed automatically.
The girder construction ensures load distribution on the floor and wall, allowing the suspension design to be applied even to walls with lower load-bearing capacity.
The console is suitable for use in plasterboard and is designed for sanitary rooms where user comfort and perfect hygienic maintenance with maximum water savings are required.
SCHEME: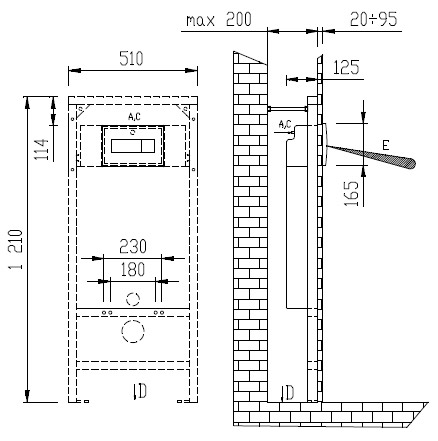 A – water supply
C – el. voltage
D – drainage
E – scanning zone