SPS 01 is a stainless steel shower column intended for outdoor and indoor swimming pools, summer camps, beaches, etc. The shower is controlled by a pressure valve.
This shower column can be installed in two ways:
– concreting
– by fastening with screws in the chic and grooves
The basic version of the SPS 01 is equipped with a single shower handle and a pressure valve for draining water. At the customer's request, this product can be equipped with a photocell for non-contact control and thermostatic valves.
Purpose
SPS 01 shower tray is intended for use in outdoor and indoor pools, summer camps, beaches and the like.
Product versions:
SPS 01.1 – shower column with one shower handle
SPS 01.2 – shower column with two shower handles
SPS 01.3 – shower column with four shower handles
Basic technical characteristics:
water supply: G 1/2 "
water pressure: 0.2-1.0 MPa
water flow: approx. 7.5 l / min at SPS 01 (one shower handle)
dimensions: 280 x 280 x 2000 mm
weight: 50 kg
Delivery includes:
stainless steel shower column
pressure valve
shower handle
screw construction
connection accessories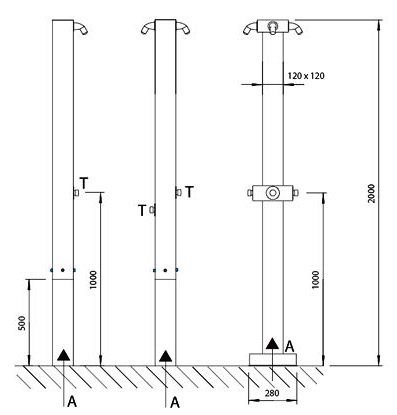 Conditions for the installation:
When concreting
– prepare an opening in the floor min. 400x400x150 mm
– prepare water supply G 1/2 "
When fastening with screws in piles and grooves
– prepare a suitable substrate (concrete, etc.)
– prepare water supply G 1/2 "
A – water supply
T – valve pressure