ZAS 3 is a token device intended for the regulated use of showers. A specially shaped token is required to activate this device. A token scanner is installed on the surface of this device located in the shower. By inserting additional tokens we can influence the amount of water and the length of the shower. The user opens and closes the water by pressing the button. The device monitors the amount of water where the length of stay in the cabin is not specified. The amount of remaining water is indicated on the LED display on the shower panel.
The token value determines the amount of shower water, which can be easily changed on the token scanner. The tokens used are marked type ZT1 and are made of stainless steel profiled plates.
The ZAS 3 token device is intended for wall mounting on existing shower mixer inlets. Installation is simple, and does not require any special construction procedures.
Performances:
ZAS 3.1 – shower device for connection to 1 water supply
ZAS 3.TV – shower device for hot and cold water connection with thermostatic valve
Conditions for erecting the structure:
Install the electrical cable -12V, 50 Hz from the ZAC power transformer.
The installation of ZAS devices does not require special construction work. Its construction enables connection to existing water inlets with a distance of 90 to 160 mm, at a height of 950-1150 mm.
Basic technical data:
water supply: 1/2 "
water pressure: 0.2-1.0 MPa
power supply: 12V, 50 Hz
power required: 6VA
power supply: ZAC 1/20 (max.3xZAS 3)
ZAC 1/50 (max.8xZAS3)
token types: ZT1
shower time: 10 sec.-42.5 min.
water quantity: 1.2-300 lit
weight: 12 kg

Delivery includes:
Stainless steel housing
Token scanner
START-STOP electronics
Token box
Box housing with lock
Solenoid valve
Thermostatic valve (ZAS 3.TV)
Angle valve (ZAS 3.TV-2 pcs)
The key
Shower handle SP 2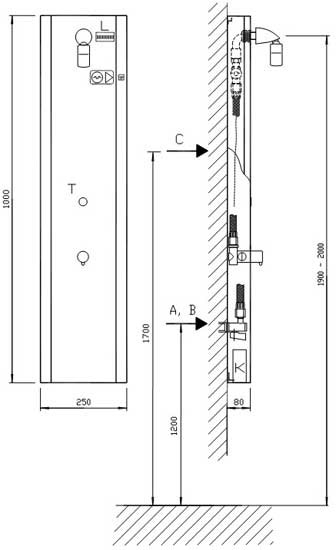 A – cold water (ZAS 3.TV)
Mixed water (ZAS 3.1)
Un.pipe 1/2″
B – warm water (ZAS 3.TV)
Un.pipe 1/2″
C – el.cable CYKY 2Ax1,5
H – token scanner
G – thermostat valve
K – token box
T – START/STOP button