SPK and SPL are sanitary tanks for electrically heated saws intended for slaughterhouses and use in the meat industry. Sterilization occurs when the chickens are immersed in a tank of hot water.
The water temperature of 83 ° C in the tank is maintained by an electronic temperature controller with a digital display. If the tank is switched on without water in it or if water leaks during operation, the electronic temperature controller switches off the unit and thus prevents damage to the radiator. The sanitary tank is equipped with a plastic plate to prevent the saw edges from coming off, with inlet and outlet valves and an overflow siphon to ensure maximum water height. The low surface temperature of the tank is ensured by its double housing and plastic cover plate. The water supply is equipped with a non-return valve.
Sanitary tanks are intended for quality and safe sterilization of saws used in slaughterhouses and meat processing.
SPL 01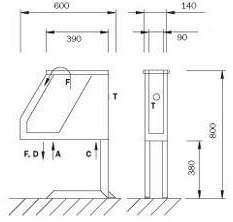 SPL 02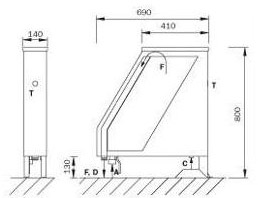 SPK 01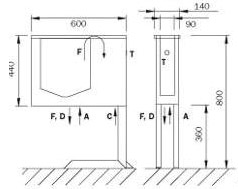 SPK 02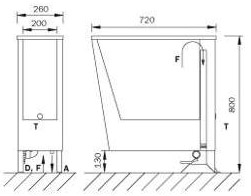 A – supply
C – voltage
D – drainage
F- sanitization liquid
T- temperature sensor