The freestanding drinking water fountain AFO 02-II is a drinking fountain made of stainless steel of modern design with pressure valve and easy operation. The water flows as long as the valve is pressed and for a certain period of time to flush the nozzle.
The freestanding drinking water fountain consists of an anchor part intended for concreting into the ground and its own column with a valve and a nozzle. The parts are connected with 3 screws, and the upper part can be dismantled if necessary (eg in winter).
The water supply is done with a flexible hose, the siphon is also flexible. The flexible design of the water opening and the siphon allows for a variable connection of the drinking fountain.
The AFO 02-II stainless steel drinking fountain is especially suitable for schools, medical institutions, and is also suitable for outdoor spaces.
The AFO 02-II drinking fountain is made of AISI 304 stainless steel.
VERSION:
AFO 02-II – stainless steel fountain AISI 314
AFO 02 CL-II – stainless steel fountain AISI 316
SHEMA: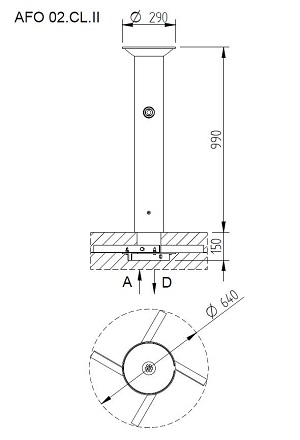 A – supply
D – drainage