AUZ 06N freestanding toilet bowl with stainless steel cistern. The drain of the toilet bowl can be directly into the wall or floor. Toilet bowls come with a gray toilet seat from a plastic company (optional black or white toilet seat available).
This design is based on the AUZ 06 model and is suitable for all places where the walls have lower load-bearing capacity and where a pressure flushing system is not possible.
The housing of the toilet bowl is made of stainless steel (AISI 304) 1.5 mm thick, and the seat is 2 mm thick. On request, stainless steel (AISI 316) can also be made.
Delivery includes:
– stainless steel toilet bowl, plastic toilet seat, cistern with flushing mechanism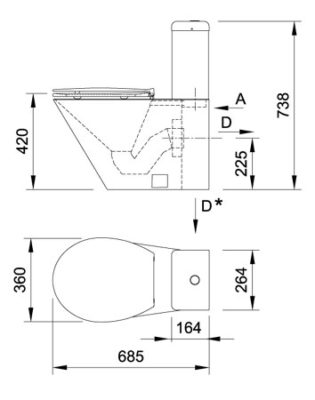 A – water entrance
D – water drainage
D* – optional extra drainage