AUZ 010 is a stainless steel toilet, vandal-resistant in matt finish, intended to stand on the floor against the wall. It is suitable for places where wall mounting is not possible. The standard design AUZ 010 has a rear drain (version with bottom drain AUZ 04). It is possible to add the AUZ 3 system with automatic flushing, AUZ 3.P with piezo button or anti-vandal flushing device BSAZ 01 or any flushing device with cistern.
Standard delivery does not include a plastic seat. Due to its resistance to vandalism, it is especially intended for the modernization of prisons, diagnostic and other institutions where security is most important.
The toilet is also produced in a design for people with disabilities under the designation AUZ 010 INV.
AUZ 010 is made of AISI 304 stainless steel. Other materials (eg AISI 316) are available on request.
Delivery includes:
– stainless steel toilet bowl, hanging accessories
Additional systems:
AUZ 3 – automatic rinsing system
AUZ 3.P – automatic flushing system with piezo control
BSAZ 01 – anti-vandal anti-flushing system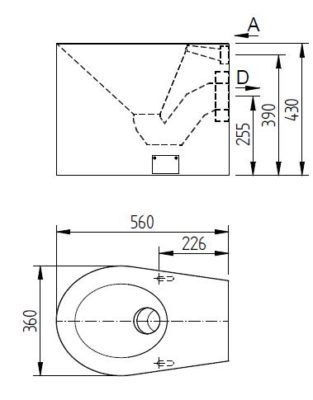 A – water passage
D- drainage