AUZ 01 hanging toilet bowl made of matt stainless steel. Delivery includes a gray hard plastic toilet seat (optional black toilet seat under code AUZ 01.CS). The mounting holes are the same as on standard ceramic toilet bowls.
The AUZ 01 toilet bowl can be combined with the AUZ 3 automatic flushing system and with the KZ 1 console; with AUZ 3.P rinsing system for disabled people; with AUZ 5-II flush flush module; with anti-vandal flushing system BSAZ 01 or BSAZ 5. Due to its high resistance to damage, AUZ 01 is intended mainly for social facilities with expected higher loads, such as motorway rest areas, brothels, etc. where simple hygiene maintenance is required. AUZ 01 is also produced in a design for people with disabilities under the code AUZ 01 INV.
AUZ 01 is made of stainless steel AISI 304. Other materials (eg AISI 316) are available on request.
For cleaning, we recommend WÜRTH detergents – material preservation (No. 0893 121 K) and material cleaning (No. 893 121 1).
Delivery includes:
– stainless steel toilet bowl, plastic toilet seat, mounting material
Other versions:
KZ 1 – wall bracket for toilet bowl
AUZ 3 – automatic pressure flushing system
AUZ 3.P – automatic pressure flushing system with piezo control
AUZ 5-II – automatic flushing system in the wall module
BSAZ 01 – anti-vandal rinsing system
BSAZ 5 – anti-vandal flushing system in the wall module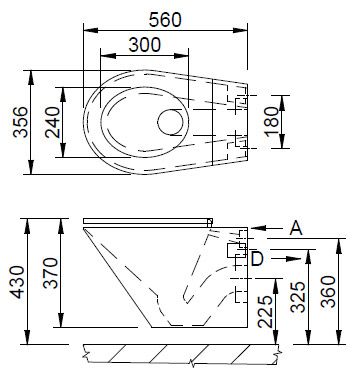 A – water input
D – output