AUZ 04 INV is a stainless steel toilet bowl for the disabled. The design is based on the classic AUZ 04 toilet bowl, which has been modified according to the requirements and guidelines for products for the disabled. The shell is vandal-resistant, comes without a toilet seat. The mounting screws are hidden from the user. Delivery also includes a disassembly bracket behind the back recommended by the Wheelchair Association.
The shell can be combined with the AUZ 3 INV or AUZ 5 flushing system, which can be ordered separately. The housing is made of 1.5 mm thick stainless steel. Due to its resistance to damage, AUZ 04 INV is intended for places with a high frequency population such as rest areas on highways, public institutions, etc … where easy hygiene is required.
It is also possible to order a reinforced version of this model, with 2-3 mm thick steel, called BSNZ 02 INV.
It is made of AISI 304 stainless steel, and it can be ordered in other materials such as AISI 316 stainless steel.
Delivery includes:
– stainless steel toilet bowl, mounting accessories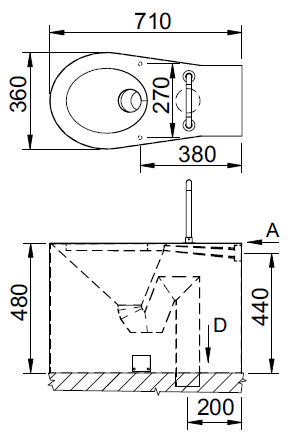 A – water input
D- drainage