AUZ 03 is an anti-vandal wall-mounted stainless steel toilet bowl. The distance between the installation holes is the same as with standard ceramic toilet bowls. Additionally, it is possible to install stainless steel plugs on the screws, which reduces the possibility of theft. To increase resistance to shell vandalization, beez toilet seats come standard. The seating part of the toilet bowl is made of 3mm thick stainless steel with rounded edges. AUZ 03 is intended for areas where there is a high possibility of product damage.
Possibility of combining this toilet bowl with AUZ 3, BSAZ 01 automatic flushing system and console KZ1 or with AUZ 5 built-in flushing system. AUZ 3 and AUZ 5 flushing systems with KZ1 bracket must be ordered separately.
AUZ 03 is made of stainless steel AISI 304, can be ordered from stainless steel AISI 316.
Delivery includes:
– stainless steel toilet bowl, suspension material
Additional versions:
KZ 1 – console for wall cabinet AUZ 03
AUZ 3 – automatic flushing system
AUZ 5 – II – automatic flushing system in the wall module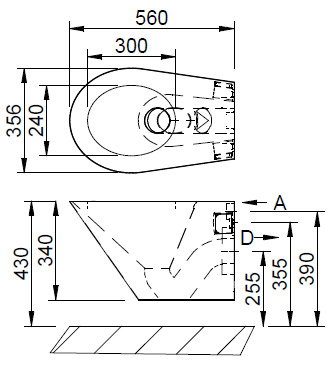 A – water entrance
D – drainage