ADR 01 is a stainless steel device that allows automatic hand disinfection by spraying with disinfectant. The built-in system responds to the simultaneous insertion of both hands into the interior of the device, where aerosol spraying is performed automatically. The system responds to this procedure by illuminating the green light and the worker can pass. The other person can disinfect their hands after the previous person leaves the scan area and the red light is on. When a person passes without hand disinfection, an audible warning signal is activated, which is interrupted by placing the hands in the ADR.
In versions ADR 01.1 and .2, unauthorized passage is felt by a sensory barrier triggering the siren. The sensors are located under the canister with the possibility of right or left design. ADR 01.2 does not require hand disinfection during return. The ADR 01.3 comes with a connection to the TRT 01 ramp. ADR 01 is designed for wall mounting.
The disinfection tank is not included.
Delivery includes:
– device housing, sensor-operated ramp, edged frame, nozzle chamber, pump, canister holder, suction hose, audible alarm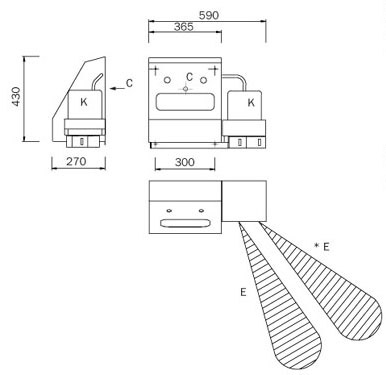 C – el. voltage
E – scanning zone
E* – scanning zone
K – liquid tank