AUP 1 is an automatic urinal flushing system, controlled by a sensor that responds to people (objects) entering the scanning zone. After leaving this zone, the rinsing system is activated.
The photocell of the sensor does not react to people passing by and does not react to daylight, nor to artificial light. After 24 hours of inactivity, the urinal is flushed on its own. The amount of water flow is adjusted on the ball valve.
AUP 1 is intended for public facilities where the user seeks comfort and maintenance of a certain level of hygiene with maximum water savings.
Basic technical information:
Sensor radius 0 – 0.8 m
water supply: 1/2 "
water pressure: 0.1-1.0 MPa
drain: according to the type of urinal
adjustable rinsing time: 1-20 sec. (factory setting for 5 sec.)
power supply: 12 V, 50 Hz
power required: 6 VA
power source:
ZAC 1/20 (max. 3xAUP 1)
ZAC 1/50 (max. 8xAUP 1)
weight: 1.5 kg
Delivery includes:
Solenoid valve
Stainless steel housing steel that includes an electronics box
Built-in spacer
Fine connecting material
If customer wants:
AP1 – AP1 flexible pipe connection (flexible pipe with Dutch nut on one side and wall plate on the other) (see picture)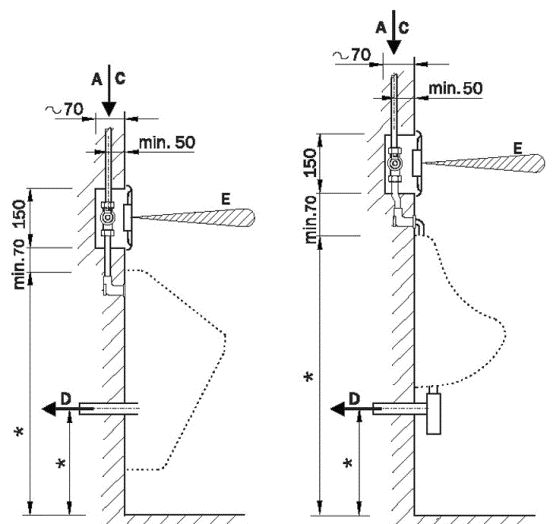 according to the type of urinal use (urinal with water inlet at the back / top)
Conditions for erecting the structure:
Place a niche 150x150x70 mm for the installation of the solenoid valve
Set the 1/2 "water supply to AUP 1 for connection to the solenoid valve and set the water supply to the urinal valve (eg AP1)
Install a drain – depending on the siphon
Install electrical cables 1-12 V, 50 Hz from the safety power transformer ZAC
A – water supply, pipe 1/2"
C – el.cable CYKY 2Ax1.5
D – drainage (depending on syphone)