The AUP 04 is a stainless steel urinal designed to stand on the floor and attach to the wall. Its design makes the urinal an interesting addition to modern sanitary facilities. The shape of the urinal is based on the popular wall version AUP 03.
The AUP 04 urinal can be supplied without an automatic flushing system (AUP 04 pl), including only the flushing nozzle, connection hoses and siphon or with an automatic flushing system supplied with 12 V (AUP 04) or with 6V from AA batteries .B),
Just one liter is enough to flush the urinal. If someone accesses the urinal without using it, the control electronics do not respond. Prevents unnecessary rinsing in case of accidental short-term entry (passing by urinal, etc.). After 24 hours of inactivity, the urinal is rinsed automatically
The flushing system is protected from mechanical damage, even intentional, as all components are located under the urinal cover. When connected to a power source, the electronics adapt to real environments.
The AUP 04 stainless steel automatic flushing urinal, due to its greater resistance to damage, is intended mainly for public buildings, motorway rest areas, etc., where maximum water savings and a long service life are required.
AUP 04 is made of AISI 304 stainless steel. Other materials (eg AISI 316) are available on request.
Delivery includes:
– stainless steel urinal, flushing nozzle, siphon, angle valve with filter, connecting hoses, console, mounting accessories, electronics with sensor, solenoid valve, battery holder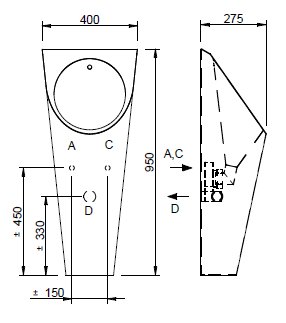 A – supply G1/2″
C – el. voltage
D – drainage , d= 50mm