AUM 03 is a stainless steel wall-mounted washbasin, automatically controlled by a sensor. The sink is equipped with a factory-installed faucet, sensor-controlled. The photocell flows automatically when you place your hands in the scan area (the solenoid valves open). They remain on for the set water flow time and after removing the hands from the scan area. This washbasin is equipped with an overpressure protection mechanism.
Version:
AUM 03.1 – one water connection
AUM 03.2 – hot and cold water connection
AUM 03.TV – with thermostatic valve
AUM 03 with its performance meets EU standards, and is mainly intended for use in the food industry where certain hygiene standards are set, with a requirement for max. water saving.
Basic technical data:
sensor radius: 0-0.2 m
water supply: 1/2 "
water pressure: 0.1-1.0 MPa
drain: d = 40 mm
un. smoke. washbasin: 520x320x100 mm
el. protection: IP 55
adjustable flow time: 0-4 sec (factory 1 sec)
power supply: 12V, 50 Hz
power required: 6 VA
power source:
ZAC 1/20 (max.3 x AUM 03)
ZAC 1/50 (max.8 x AUM 03)
weight: 9 kg
Delivery includes:
trough with formwork
the head of the photocell
electronics
solenoid valve
angle valve with filter (AUM 03.2,. TV – 2 pcs)
mouse valve (AUM 03.2)
thermostatic valve (AUM 03.TV)
chiffon
connecting pipes
small connecting material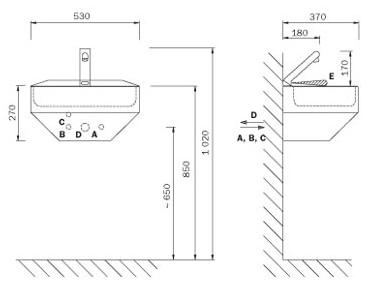 A – cold water (AUM 03.2, .TV)
Mixed water (AUM 03.1)
Ul. pipe 1/2″
B – warm water (AUM 03.2, .TV)
Ul. pipe 1/2″
C – voltage
D – output
E – scanning zone
Installation conditions:
Set the water supply as shown
Adjust the drain d = 40 mm
Install the power cable – 12 V, 50 Hz from the safety power transformer ZAC