MSE 2P are stainless steel columns for paid discharge of electricity and / or water. After inserting the coins into the control, it is possible to use devices that are paid for until the prepaid loan is used up. It is possible to extend the time by inserting new coins during the operation. The coin machine can accept two different currencies (standard CZK and EUR which can be changed on request).
Every el. sockets include overcurrent and short circuit protection as well as a circuit breaker. An electric cable loop is possible inside the columns, so it is not necessary to connect each column with an individual electric cable from the central switchboard.
Each column is equipped with a small roof that protects the plinth from direct rain and with an opening in the lower part for ventilation. It can also be equipped with a light on request.
MSE 2P are made of AISI 304 stainless steel. Other materials (eg AISI 316) are available on request. For cleaning, we have recommended WÜRTH detergents – material preservation (No. 0893 121 K) and material cleaning (No. 893 121 1).
Package contents
stainless steel stand
coin machine
lock box (by version)
electronics
electricity meters and circuit breakers (by version)
water meters (by version)
electrical sockets and their connectors
water valve (by version)
a lock
anchor construction
| | |
| --- | --- |
| Max. outer dimensions | 440 × 300 × 1470 mm |
| Input voltage | 3× 400 V, 50 Hz, TN-S |
| Max. cable cross-section | 5× 25 mm² |
| Supply cable loops | da |
| Output voltage | 230 V |
| Output current | 10 A |
| Coins | 1, 2, 5, 10, 20, 50 CZK |
| | 0,1; 0,2; 0,5; 1; 2 € |
| Adjustable price | 5 ÷ 50 CZK/kWh (0,2 – 2 €/kWh) |
Installation requirements:
Installed concrete base for the installation of anchor bolts
Place the supply cable in the middle (± 50 mm) of the column base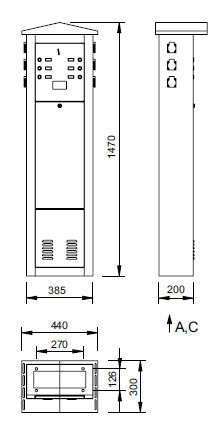 A – water inlet
C – electrical power supply cable