AMZ is an automatic system for washing work clothes made of stainless steel intended for floor mounting. The nozzle system uses a single-pipe inlet of mixed water from the circulation or water that is mixed by means of a thermostatic valve.
The AMZ 01 is equipped with a built-in sensor that responds to the user standing within the range of its scanning zone. The user enters the network, the solenoid valve opens the water supply and water begins to flow from the nozzle system. Work clothes are cleaned of dirt without contact with the help of nozzles and thus prevent possible contamination of the control elements.
The water stops flowing with a certain time delay after the user leaves the network. Regarding the construction of the washing system, it is recommended to install the system near the sewer entrance.
AMZ 02 is a sensor-controlled washing system for work clothes equipped with the START / STOP system. The user steps on the grate and turns on the water by briefly shading the sensor. A hand brush with a connection to the water supply can be used for additional cleaning. The washing system is equipped with a stainless steel water tank with its own opening, located under the grate.
Delivery includes:
– flushing system housing, stainless steel grille, rear panel with nozzles, electronics with photocell, hand brush (AMZ 02), solenoid valve with filter, connecting hoses, nozzles – 6 pcs
Performances: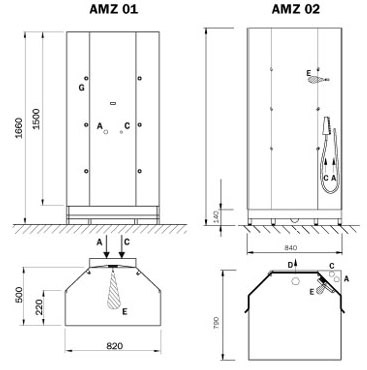 A – supply
C – voltage
E – scanning zone
G – nozzles