AUZ 3 is an automatic pressure toilet flushing system that uses an optoelectronic sensor for contactless operation. Leaving the scanning zone (sensor zone) opens the solenoid valve and flushes the toilet.
The sensor does not respond to passage of people and is not sensitive to daylight and artificial lighting. The manual rinse button can be used for cleaning.
AUZ 3 can be used for all types of toilet bowls. It is also possible to combine this flushing system with a stainless steel toilet from our AUZ range. The most suitable type is a wall-mounted toilet mounted on the load-bearing structure of KZ 1. The KZ 1 bracket must be ordered separately.
AUZ 3 automatic toilet flushing system is designed for sanitary facilities where it is necessary to maintain hygiene with maximum water savings.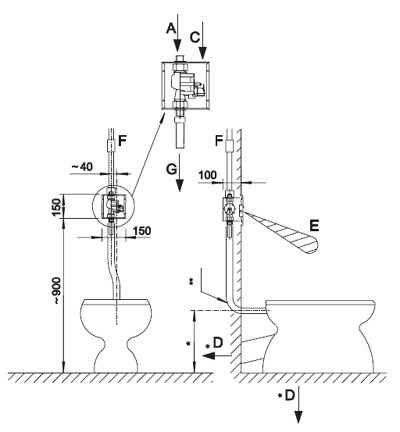 A – water supply
C- el. voltage
D – drainage
E – scanning zone
F- filter
G – water output