RMZ 01 is a workwear washing system with a stainless steel sensor. The built-in photocell responds to the presence of clothing in the scan area. The solenoid valve turns on automatically, the brushes begin to rotate, the water opening opens and the disinfectant fluid is dosed. Work clothes are spread between the rotating brushes, the belts need to be held constantly. After the apron has passed through the brushes it is slowly pulled backwards. In case the apron is pulled into the washing system, it can be pulled out of the opening on the front of the appliance. The functional space of the swivel brushes is easily accessible after removing the top cover. There is a CENTRAL / STOP button for emergency shutdown.
This is a stand-alone system. Imperfections in the floor are balanced by four adjustable screws on the legs. The construction of the system allows the drainage to be placed above floor level.
The KMZ 01 washing system is intended for operations that require high-quality mechanical removal of dirt from work aprons.
A canister with disinfectant solution is not included in the delivery.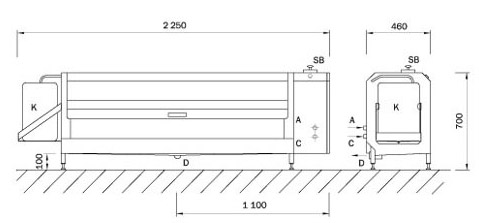 A – supply
C – voltage
D – drainage
E – scanning zone
K – tank with the liquid
SB – the main switch