Indoor pellet stove for hot air heating by blowing warm air into the room.
Available in three colors: white, gray, red
The indoor stove independently supplies the pellets using a screw conveyor and ignites them using an electric heater.
Possible automatic switching on / off of the stove.
The economy function allows automatic power reduction when the room temperature approaches the set point.
In addition, a Wi-Fi module can be ordered, with which it is possible to monitor temperatures and control the operation of the oven via a mobile application.
Integrated pellet tank.
Delivery and mandatory equipment: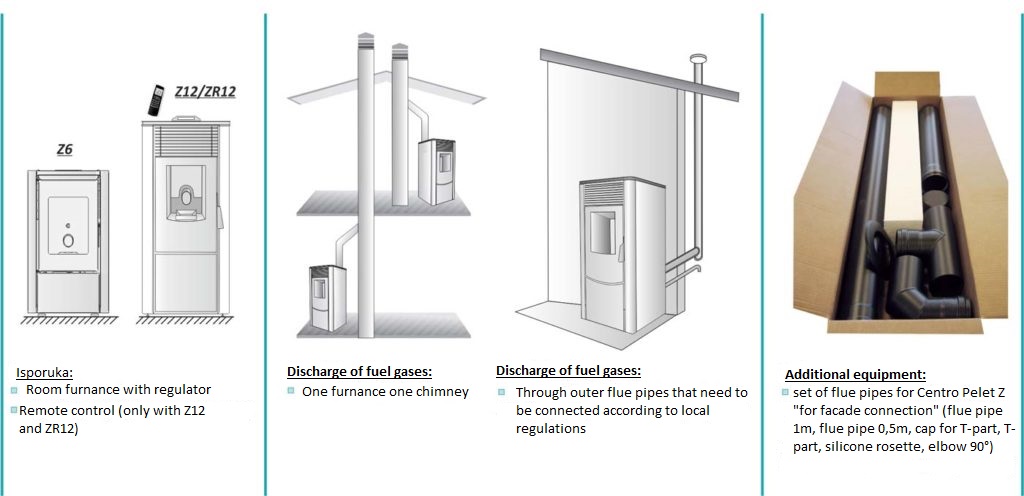 Skrećemo pozornost korisnicima naših Centropelet peći serije Z, ZR i ZS na potrebu mjesečnog čišćenja koje je detaljno objašnjeno u tehničkim uputama pod nazivom "MJESEČNO ČIŠĆENJE". Prema informacijama sa terena uvidjeli smo da jako puno korisnika ne obavlja ovo čišćenje  što može rezultirati smetnjama u radu peći kao i oštećenjima pojedinih dijelova peći, a takva oštećenja ne pokriva jamstvo na proizvod iako se dogodi u jamstvenom roku. Ukoliko pak se za loženje peći koristi pelet sa više pepela od onog klase A1 potrebno je "MJESEČNO ČIŠĆENJE" obavljati i češće od jednom mjesečno, a obavezno odmah čim se primijete smetnje u radu peći.