AUP 02 is an integral stainless steel urinal with an automatic flushing system using a thermal sensor for non-contact control, which reacts to temperature changes in the siphon after using the urinal.
This thermal sensor generates a signal analyzed by the electronics, opens the solenoid valve and flushes the urinal. After 24 hours of inactivity, the urinal rinses itself.
The heat sensor does not respond to people standing near or passing by the urinal. The rinsing time setting is performed without the remote control. It is set by turning off the power according to the operating instructions.
A urinal with battery power and sensor control is supplied at the customer's request.
This device is easily installed by connecting and hanging on the wall.
The flushing system is protected from mechanical damage, as all parts are located under the urinal cover.
Purpose:
Due to its resistance to damage, this urinal is intended mainly for installation in public spaces, rest areas along the highway, etc., where maximum water savings are achieved and longevity is guaranteed.
Basic technical data:
Water supply: 1/2 "
Water pressure: 0.1-1.0 MPa
Drain: d = 50 mm
Adjustable rinsing time: 1-20 sec. (factory set to 5 sec.)
Power supply: 12 V, 50 Hz
Power required: 6 VA
Safety power transformer:
ZAC 1/20 (max.3 x AUP 02)
ZAC 1/50 (max.8 x AUP 02)
Weight: 8 kg
Delivery includes:
Stainless steel urinal
Syringe
Thermal sensor
Electronics
Solenoid valve
Angle valve with filter
Siphon and connecting pipes
Console
Fastening material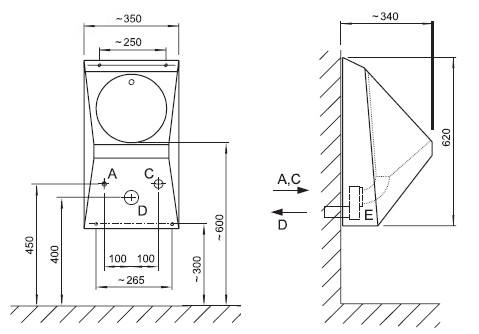 Conditions for erecting the structure
Set the water supply to 1/2 "- as shown
Install a drain d = 50 mm
Set the el. cable – 12 V, 50 Hz from safety power transformer ZAC.
A – water supply, un. diameter 1/2"
C – el. cable CYKYA 2A x 1.5
D – drainage (d=50 mm)
E – heat sensor