KZS 1 console is intended for placing a toilet bowl on a plasterboard. Its construction allows the load to spread to the floor and to the load-bearing profiles of gypsum boards. It therefore allows the application of hanging equipment even on walls with a lower load. The distance of the profile can be from 410 to 550 mm.
KZS 1 console enables:
– application for hanging toilet bowls with a distance between the mounting screws of 180 and 230 mm and with a distance between the water supply and the drain pipe of 135 mm and between the anchor bolts and the outlet pipe of 100 mm.
– setting the seat height in the range of 380 ÷ 510 mm – for classic use, and for people with disabilities
– drain pipe d = 110 mm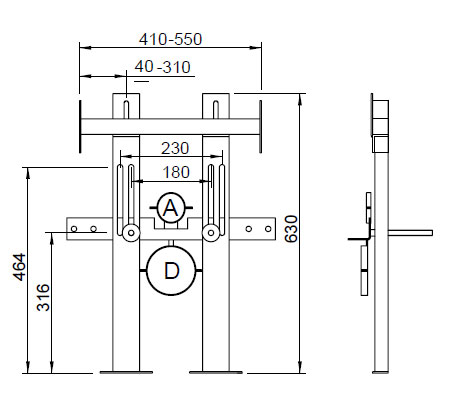 A -place for water supply
D- place for drainage