Product description
The AUM 17 is a mixer automatically controlled via a sensor, with a mixing valve.
When the hands are placed in the scanning zone, the water flows automatically – the solenoid valves open. They remain on for the time set and after moving your hands out of the scan area. The water stops flowing after the sensor is shaded for more than 30 seconds.
The water temperature can be easily adjusted by turning the upper ring on the tap.
Performances:
AUM 17 – with mixing valve, 12 V supply from ZAC supply
AUM 17.B – with mixing valve, 6 V supply (4xAA batteries)
AUM 17.E – with low pressure boiler – 12 V
AUM 17 meets EU standards and is intended for installation in areas that are expected to provide comfort to users while maintaining a satisfactory level of hygiene and max. water saving.
Basic technical information:
Sensor radius: automatically set
water supply: 1/2 "
water pressure: 0.2-0.8 MPa (AUM 17.B)
0.1-1.0 MPa (AUM 17)
0.2-0.6 MPa without vortices and bubbles – we recommend 0.3 MPa (AUM 17.E)
adjustable flow time: 0-4 sec. (factory set to 1 sec.)
power supply:
12 V, 50 Hz (AUM 17, AUM 17.E)
6 V DC (AUM 17.B)
power source:
ZAC 1/20 (max. 2 x AUM 17)
ZAC 1/50 (max. 5 x AUM 17)
AA batteries – 1.5 V (AUM 17.B) – 4 pcs
battery life: approx. 1.5 years / 100 rinses per day
weight: 2.7 kg
Delivery includes:
Tap with mixing valve
Electronics with suspension bracket
Solenoid valve (AUM 17, 17.B) – 2pcs
Mixing T-piece with nut (AUM 17.E)
Angle valve with filter (AUM 17, 17.B) – 2pcs
Battery holder (AUM 17.B)
Cylindrical batteries 1.5 V (AUM 17.B) – 4 pcs
Connecting pipes
Fastening strap
M6 screw with nut and washer – 2 pcs
Whale tube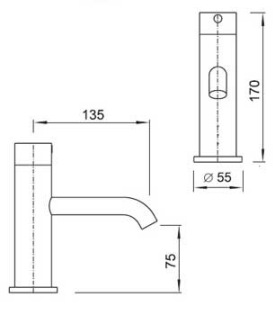 Conditions for erecting of the structure
Adjust the water supply, 1/2 "pipe as in fig.
Adjust the drain-as for the siphon.
Install the electric cable-12 V, 50 Hz from the safety power transformer ZAC (not for AUM 17.B)
The ceramics of the sink are placed as in the picture