Cast iron thick radiators VIADRUS – TERMO

Type TERMO are intended for use in central heating systems with natural (thermosiphon) or forced circulation of hot water, maximum temperature 115 ° C with a maximum operating pressure of 0.6 MPa.
TERMO is a newly designed cast iron radiator with a flat front surface and new technical characteristics. The construction, which uses the material efficiently, has made it possible to reduce the weight of the radiator and the water content by about 25% compared to the KALOR and KALOR 3 models, but at the same time increase the heating surface as well as the efficiency of the radiator. The connections to the system and connectors are 1 ", and they are produced in six different dimensions.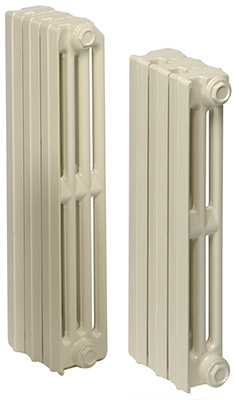 Dist. of the holes/ depth(mm)
General height
(mm)

Weight (kg)

Heating surface
Water content

Output
DIN EN 442

90/70/20°C
75/65/20°C
500/095
560
4,35
0,192
0,6
98,1
73,4
500/130
560
5,36
0,254
0,8
119,7
91,0
623/095
683
5,08
0,230
0,8
117,4
88,7
623/130
683
6,46
0,303
1,0
142,6
108,8

---
ADVANTAGES OF CAST IRON RADIATORS:
longevity
corrosion resistance
possibility of installation in tall buildings thanks to high working pressure
possibility to adapt to the needs of the space (article design)
good price
As standard, radiators are delivered in batteries of 10 cells, which are painted with a gray base color. It is possible to order them factory-assembled in batteries according to the customer's needs, fully equipped with the necessary accessories and finally painted.
WARRANTY
The manufacturer gives a 10-year warranty on the radiator body.