AUL 01, AUL 02 are stainless steel troughs with contactless taps. The optoelectronic sensor responds to the hands below the spout – when the hands are placed in the sensing zone, the water is automatically released by opening the solenoid valve, which remains open for some time after removal (deceleration time). The water temperature is set by a thermostatic valve. Depending on the customer's needs, the troughs can be equipped with soap and disinfectant dispensers, paper towel dispensers, trash cans and other accessories.
The siphon is on the right, if viewed from the front of the trough. If it will be on the left, you must specify this when ordering.
The troughs are made of stainless steel class ČSN 17240 (AISI 304). They can be made of other materials to order (eg AISI 316).
The AUL 01 and AUL 02 troughs are designed for installation in the bathrooms and locker rooms of food processing plant production areas.
VERZIJE:
| | |
| --- | --- |
| AUL 01.1 | automatic trough 1250 mm – 2 tap with thermostat valve – 12V, 50 Hz |
| AUL 01.2 | automatic trough 1900 mm – 3 tap with thermostat valve – 12V, 50 Hz |
| AUL 01.3 | automatic trough 2500 mm – 4 tap with thermostat valve – 12V, 50 Hz |
| AUL 01.4 | automatic trough 3000mm – 5 tap with thermostat valve – 12V, 50Hz |
| AUL 02.1 | automatic trough 1250 mm – 4 tap with thermostat valve – 12V, 50 Hz |
| AUL 02.2 | automatic trough 1900 mm – 6 tap with thermostat valve – 12V, 50 Hz |
| AUL 02.3 | automatic trough 2500 mm – 8 tap with thermostat valve – 12V, 50 Hz |
| AUL 02.4 | automatic trough 3000mm – 10 tap with thermostat valve – 12V, 50Hz |
SHEMA: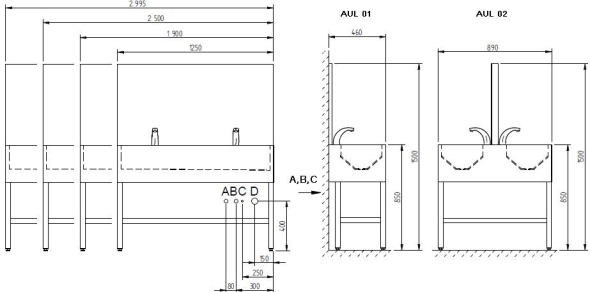 A – cold water
B-  wrm water
C – el. voltage
D- drainage